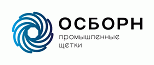 General manager
Industrials Brushes OSBORN
Engineer manager
Industrials Brushes OSBORN
Sale of expendable industrial brush tool manufactured by Osborn, SIT, etc.: brushes for metal and wood processing, stone and other materials. Designing and custom-made non-standard brush tools for all industries.
Strip linear brushes for industrial and domestic use, can reduce heat loss of premises, protection from dust, debris, snow, improve noise insulation.
Cutting and mopping-off tools, wheels and disks for metal, stone, ceramics.
Polishing compounds and pastes, solid, liquid. Consumption tool for polishing operations for various purposes.
Address: Russia, Saint-Petersburg, Rustaveli st., 13